Ventilator Plus HRV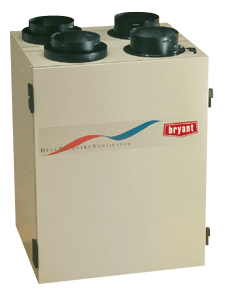 Enjoy Clean, Fresh Air and High-Efficiency Energy Recovery
Today's homes are built, insulated and sealed for energy efficiency. As a result, your comfort system may recirculate germs, bacteria and other airborne pollutants.
Features:
The Ventilator Plus HRV brings fresh outdoor air inside through the fresh air port.
The high-efficiency core recovers energy from indoor air and transfers the heated or cooled air temperature to the fresh air without mixing the airstreams.
The Ventilator Plus recirculates indoor air through the core to prevent frost from forming when the outdoor temperature drops to 23o Fahrenheit.
Strategic positioning of the motor makes the Ventilator Plus HRV one of the quietest units available today.
Two briefcase-style latches on the door of the unit make filter maintenance quick and simple.
Benefits: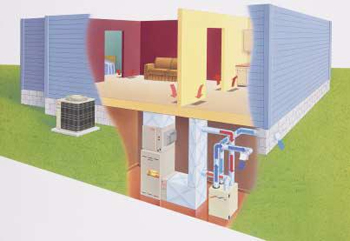 Improves the air your family breathes by exchanging stale indoor air with fresh outdoor air.
No need for costly, energy-consuming supplementary electric defrost systems found on other manufacturer's units.
Enhances indoor air quality by never mixing incoming and outgoing air streams
Quiet operation allows you to relax in comfort.
Easy accessibility makes cleaning the filters and the core simple
Energy Saving Systems serves Waukesha, Milwaukee and Southeast Wisconsin with quality heating and air conditioning services.
Let us serve you today. Call (262) 549-9337.