Heat Pumps
Bryant Heat Pumps Are Air Conditioners That Can Also Heat Your Home
The rock-solid Bryant Evolution® System heat pump offers Bryant's highest efficiency performance and most comfort options, and our Preferred™ Series and Legacy™ Line products provide economical comfort. Remember, the higher the SEER and HSPF ratings, the more cost-savings you can realize. Plus, you can add a Bryant gas furnace and enjoy hybrid heating.
---
Evolution Extreme Heat Pump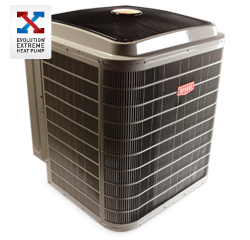 The Bryant Evolution Extreme Heat Pump offers up to 20.5 SEER cooling and up to 13 HSPF heating efficiency, that combines intelligent system control with variable speed operation to provide premium comfort.
Puron® refrigerant
Up to 20.5 SEER and 13.0 HSPF
Variable speed operation for premium comfort
Enhanced diagnostics with Evolution control
Sound as low as 58 dB in cooling mode and as low as 62 dB in heating mode
Evolution® Control for ultimate performance
AeroQuiet™ System II to minimize noise
DuraGuard™ Plus system to protect your unit
10-year parts limited warranty upon registration
---
Evolution System Heat Pump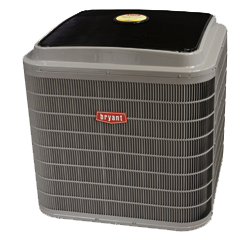 The Bryant ultra-high efficient, reliable Evolution Heat Pump offers 19 SEER cooling and heating efficiency, plus 2-stage operation for energy-saving comfort. Its year-round value has earned it a Consumer Digest Best Buy recommendation.
Puron® refrigerant
Up to 19 SEER and up to 10 HSPF
Even temperatures
Enhanced diagnostics with Evolution control
Sound as low as 66 dB (quiet as a vacuum)
2 stage operation for maximum comfort
Evolution® Control for ultimate performance
AeroQuiet™ System II to minimize noise
DuraGuard™ Plus system to protect your unit
10-year parts limited warranty upon registration