Bypass Humidifiers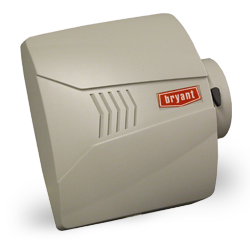 Reliable Humidity Control: Works with Your Furnace
The Preferred Fan Humidifier directs just the right amount of moisture vapor into furnace ducts for greater whole-house comfort and less static electricity. Quiet, energy-efficient operation and two capacity models make it right at home, anywhere.
Bryant LBP and SBP Features:
Powered by furnace fan
Front access door
Low-noise operation
Durable cover
Solenoid valve and water distribution system
AC/DC circuit board
Small or large capacity models available
Evolution® Control, Humidistat, Humiditrac™ and Thermidistat™ control options
5-year limited warranty on parts
Energy Saving Systems serves Waukesha, Milwaukee and Southeast Wisconsin with quality heating and air conditioning services.
Let us serve you today. Call (262) 549-9337.