Evolution® Control Thermostat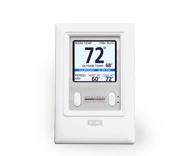 Our Top of the Line Thermostat Programmed for Fool-Proof Ease
The Evolution Control thermostat simplifies home comfort with 7-day programming of temperature, humidity and air quality. Large-button, easy-read screen, multi-zone settings and optional remote access assure superior performance.
Features:
Straightforward prompts for ease of use
Perfect Humidity™
Air quality control
Fan speed control
Ventilation control
Easy-to-read LCD screen
Day-at-a-glance 7-day programming
Large, easy-to-push buttons
Optional Remote Access Kit
TrueSense™ dirty filter detection
Optional Zoning System - up to 8 Zones
10-year parts limited warranty upon registration
Maintenance reminders
Energy Saving Systems serves Waukesha, Milwaukee and Southeast Wisconsin with quality heating and air conditioning services.
Let us serve you today. Call (262) 549-9337.