Products
Questions about our products?
Call us today: (262) 549-9337
Evolution® System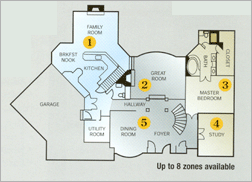 Features:
Single screen zone information
Customized zone names
Up to 8 zones available
Copy schedules to different zones
Automatic duct assessment

measures and displays airflow to each zone
knows percentage of air into each zone
compensates for duct variability
Energy Saving Systems serves Waukesha, Milwaukee and Southeast Wisconsin with quality heating and air conditioning services.
Let us serve you today. Call (262) 549-9337.